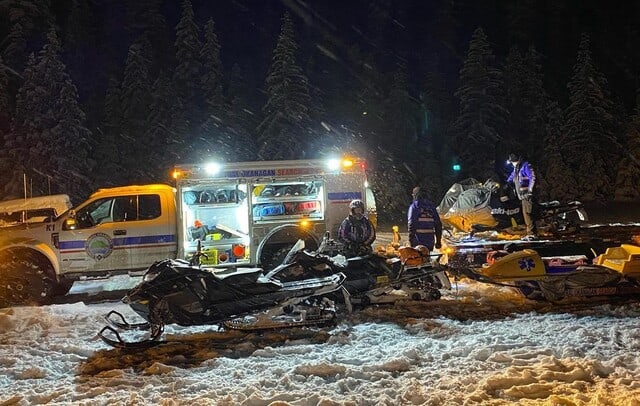 On Sunday afternoon COSAR was asked by the RCMP to locate and assist two stranded motorists on James Lake Forest Service Rd.
The motorists had gotten stuck trying to drive up to James Lake. They were first located by a man snowmobiling in the area. The motorists asked the snowmobiler to contact a family member for assistance. That family member was unable to assist, so the RCMP was contacted and then RCMP asked COSAR to extract them before nightfall.
A team was deployed by snowmobile to find the motorists and bring them out. COSAR located the motorists only to find that a 4×4 off-road club was assisting the motorists. The 4×4 club just happened to be recreating in the area and came across our subjects and managed to get them unstuck and turned around. The COSAR members stood by to ensure the stranded motorists got out safely but as they and the 4×4 club were escorting out the first vehicle, the group came upon another truck that had gotten stuck and they assisted them too.
COSAR would like the thank the 4×4 vehicle club for their assistance with the stranded motorists and bringing them out of the area. This is COSAR's 6th call of the year.